**I was given a copy of this book in return for an honest review. This post may contain affiliate links. This review is my honest opinion of the book.**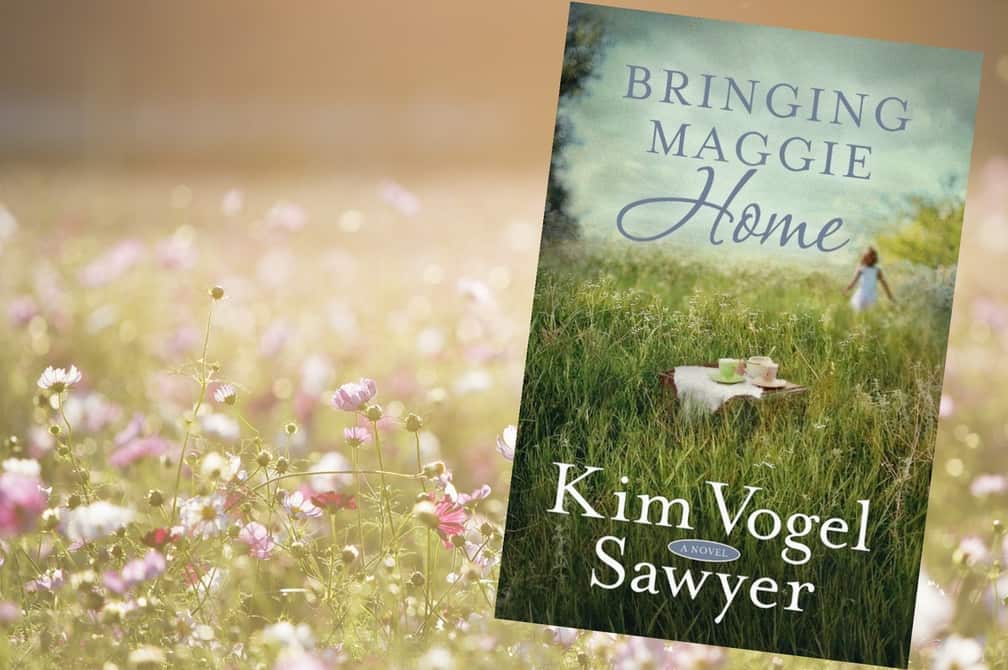 I just finished
Bringing Maggie Home
, Kim Vogel Sawyer's latest release, and wow!
Happy tears. So many happy tears.
The book is a tale of love, family, hope, and reconciliation. The story revolves around a family of three women, a family like any other family, with drama, conflict, and sometimes underlying love.
Hazel, the matriarch of the DeFord family, has a secret that she has kept for nearly 70 years. When she was ten years old, Hazel was picking berries with her three year old sister, Maggie. All of a sudden Maggie disappears. Still missing seventy years later, Hazel projects the guilt of losing her little sister onto her daughter, Diane, through fierce overprotectiveness. Diane's daughter, Meghan, is forced to take a six-week recovery/vacation after an accident, which brings the women back together. When Meghan uncovers Hazel's secret, she can't help but want to use her experience as a cold case detective to solve the mystery of what happened to little Maggie.
Hazel is my favorite character of the book. She's so spry and faithful and wonderful despite dealing with such loss. My heart ached for her, especially as we learned more about her life as a child and the way that the loss of her sister haunted her.
Diane, her daughter, was well, a spoiled brat. I couldn't help but to be annoyed by her and her attitude toward her mother, toward her daughter's relationship with her mother, with her dogs, with her skepticism of her mother's faith. How could she not understand her own mother once she became a mother? Personally, being a parent has opened my eyes to my own parents motives. I really could not identify with her at all, but I suppose that is the point.
Meghan was such a sweet character, who somehow turned out to be well-adjusted despite her mother, Diane's laissez-faire attitude toward parenting. She has a strong, positive relationship with her grandmother Hazel that seems to ground her. But it is easy to see that she has had to constantly be the mediator between her mother and grandmother, which seems like such an unfair role to have to play.
Bringing Maggie Home
is Kim Vogel Sawyer's first time writing in a style that switches between the past and the present. At first, I was unsure if I would like it, but I found it to be very effective in telling this story.
As a parent, this story was hard to read as I cannot imagine losing any of my children. (My son happened to be three years old as I was reading it, so that may have played a role.) But, let's just say that I shed some tears throughout
Bringing Maggie Home.
Some sad tears, some happy tears.
Bringing Maggie Home
is an amazing story. I would highly recommend it. The plot itself will leave you wanting to keep reading to find out, what did happen to little Maggie? The writing is just superb, as expected from Kim Vogel Sawyer. The historical pieces of the story bring a time of the past to vivid life. And true to the Christian Fiction genre, the elements of Christian faith woven throughout the story create a beautiful picture of God's overwhelming grace. Over the years, I've read a dozen or more Kim Vogel Sawyer books; you can read a few other reviews
here
.
Get your copy of
Bringing Maggie Home
at Amazon --
click here
.